10 reasons to choose the best flag from Belgium!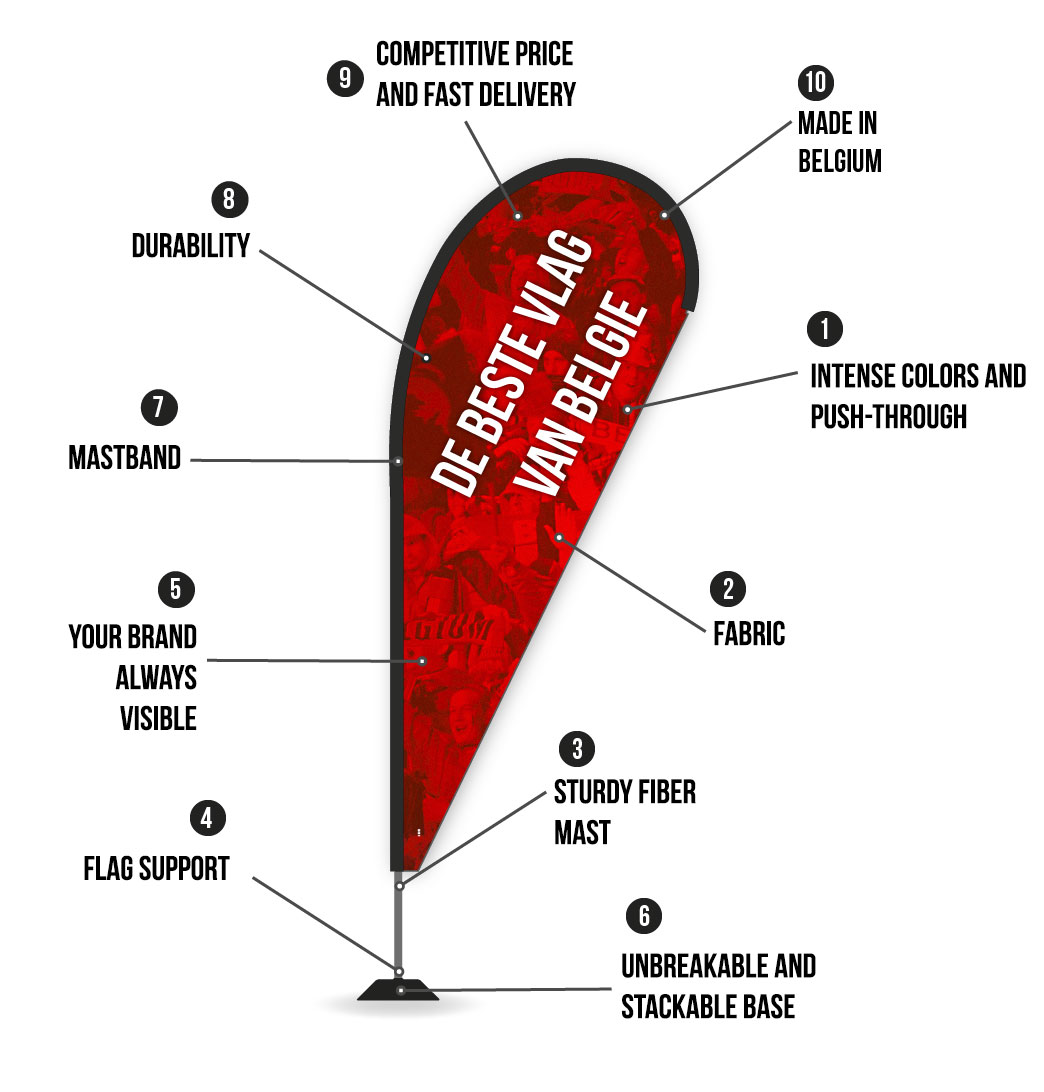 1. Intense colors and perfect push-through
With our all-new high-tech sublimation printer you ensure a drop flag with a beautiful color intensity and perfect push-through.

2. Qualitative fabric
We offer a woven fabric whose fibers are very close to each other. Result is a substance that is less transparent and shows more the intensity of the colors. Convince yourself of the difference compared to other flag dust.

3. Solid fiber mast
Our fiberglass mast is flexible, so it always springs back, while an aluminum mast bends with too much wind. The resilience of our fiber is very high, which gives the fabric a nice and strong tension. In addition, the components of the mast are provided with extra chromed and reinforced connecting pieces. The mast always goes smoothly and apart.

4. Durable flag support
The connection that we developed especially for this drop flag shines in its simplicity:
● Stainless-aluminum tube with slide bearings.
● Remove manually from the support
● Sturdy grip around the mast
● Long service life
● Price-conscious
A combination of properties that every developer dreams of.

5. Tight cloth, your brand is always visible
Due to the beautiful tension of the canvas, the entire surface of the canvas is always visible. Even in strong winds or in case of wind. Your visibility is always guaranteed and that is what it is all about.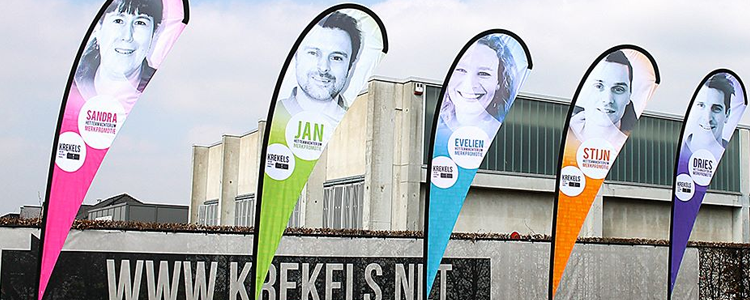 6. Unbreakable and stackable rubber foot

Our rubber foot, which we are unique in, will ensure that you never need another. The rubber foot consists entirely of recycled material, is perfectly UV-resistant and does not crumble like concrete feet. It is equipped with a hand rest and will not damage the ground with scratches due to its soft surface. The flag support can be easily removed so that the feet are stackable. Handy during transport for events with multiple flags.

7. Mast band
Each drop flag has a sturdy mast band. You can choose from white or black. On request it is possible to print a mast band in your pantone color.

8. Durability
Both the resilient fiber mast and the non-moving fabric last longer than a normal drop flag. The flag support and rubber foot are also 'for life'. Buy the hardware once and enjoy a nice quality whole for a long time. We are so convinced of the quality of our hardware that we give a 2 year warranty on the foot, the mast and the rotator. (When using the flag correctly)

9. Competitive price and fast delivery
The high volumes and large stocks allow us to offer the hardware at competitive prices. Modern machines and camera-controlled cutting tables ensure high capacity and highly advanced automation. In short, we are organized to produce quickly and competitively and we hope that all customers can benefit from these benefits.

10. Drop flag made in Belgium
The best flag of Belgium is printed and made up entirely in Belgium. A drop flag 100% made in Belgium.
Quality:
Crickets is extremely proud to offer you this beach flag. After 8 years of intense development, we have succeeded in bringing the best beach flag of the Benelux on the market. Really a winner for many reasons:
High-quality fiber mast: flexible, reinforced at the bottom and components do not jam with each other
Unbreakable rubber foot: UV resistant, does not scratch, looks beautiful, with handle
Removable pen: Handy for stacking several feet when transporting for example
Pen is rustproof and can be used for intensive use
Canvas is always tightly stretched due to its shape. Text extremely well visible.
Intense colors by special fabric and modern sublimation printer.
Price is competitive and price / quality is this flag only at the top
I use your graphic services (30 euros):
If you choose this option when ordering the product, immediately after your order one of our graphic staff will contact you and guide you through the process.
I supply the images myself (free option):
You will find the right steps here:
1. Download the correct template via the button below.
2. Open the file in a layout program and create the design in a separate layer.
3. You must take into account the following points:
Embed all logos and photos
to make the design in CMYK color mode.
image format at 600dpi because the image is 1:10 format
to convert all letter contours so that you can not have fonts that are staggered.
4. As a final step, remove the layer that contains the template and save the file in PDF format.
Uploading files:
You can submit your files via the wet transfer link at the bottom.

---> Click here to upload your image
Online approval of the file and release for production:
Our graphics department checks your supplied file for quality and color. You will receive a digital proof that you can approve online or comment on. Only after your final agreement online can the production start.
Download template