4 unique characteristics of the most stable and safest starshade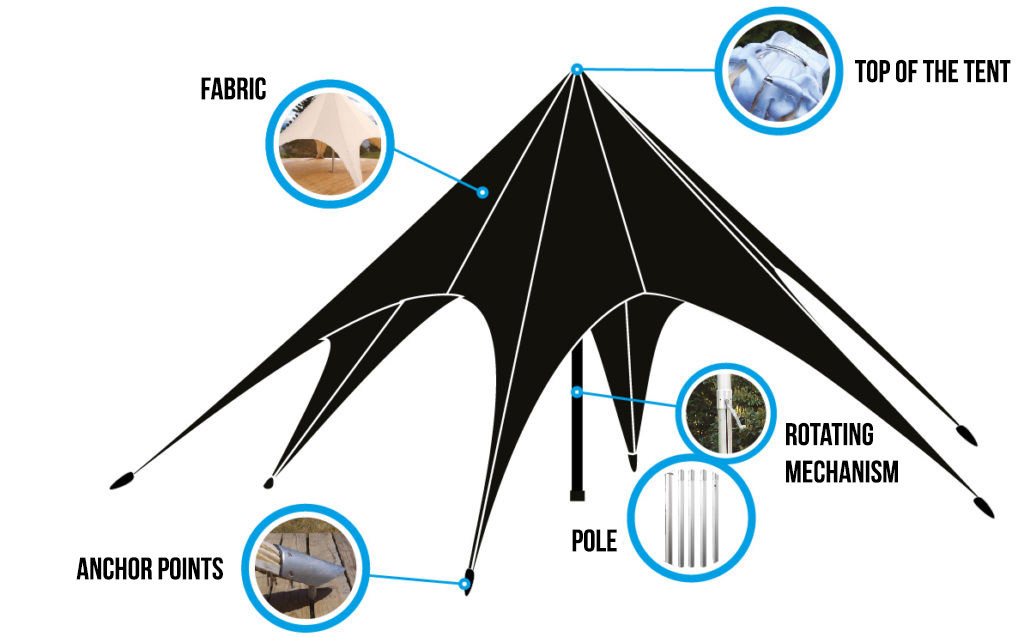 1.The fabric
The quality of the fabric deserves special attention. We deliberately opt for the more expensive variants in the market because compromises are excluded here. The largest part of this beautiful tent therefore consists of dust. This tent fabric is 100% polyester. Polyester is fire retardant and has a European fire certificate. The fabric is provided with technical coatings for watertightness and mold proofing. The UV coating provides protection against sun and color retention and is evenly distributed without errors. The fabric retains its elasticity and is also tear-resistant after long use. Various standard colors and full-digital printing are possible.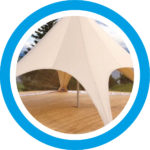 2. Top of the tent
The top pole is provided with a sturdy support of 15 mm thick which ensures stable support of the roof. The top of the fabric is reinforced with a metal ring of 8 mm thick and six sturdy belts of 7 cm long to prevent tearing and to absorb extra forces.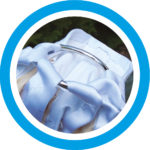 3. Pole
We have the thickest pile with the 100 mm diameter and 3 mm wall thickness the thickest available on the market. The pole is unbreakable, so safety is guaranteed.
The lower part of the post has been additionally strengthened with a wall thickness of 4 mm and is equipped with a sturdy winding mechanism. With a detachable aluminum handle you can screw the pole up with forces that can lift more than 1000 kg. Without much effort you can put the tent under perfect tension.
The CNC milled spacers ensure very good fitting and a system that can be easily disassembled. So no hassle to disassemble the post after use.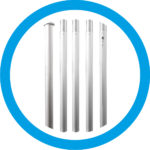 4. Anchor points
Each arm of the Startent has a protective aluminum base or hoof with a wall thickness of 6 mm. It has no sharp edges so that no one can hurt it. The fabric is extra securely attached to the aluminum shoe by means of a PVC layer. You can not stumble through the shape of the foot.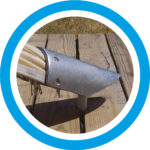 SET: Tent comes with (pole + bag, roof + bag, 6 ground pins + bag, middle plate, handle)
PACKING: Three bags. Maximum height 160cm. Tent fits in passenger car.
WEIGHT: Max 45 KG per bag for ergonomic comfort.
Below you will find more information about the choices and options that you will receive with this product in the shop:
Pole Basic
Material: aluminium plastic-coated
80mm diameter and 3mm wall thickness.
Second part has a turn-up mechanism.
The top has a solid support for a stable print of the roof
The pole is delivered in a carrying bag
6 month warranty
Roof: Color
If you choose a roof in standard color, you have the choices below. Give your selection in the shop. If you do not know the color yet, you can also select this. For tent completely white or sand color you can enjoy an advantageous rate. See product page first choices. Available standard colors:
Optional: Lettering
Krekels is a specialist in printed tents. You have several options to personalize your tent:
removable banners (see accessories)
full digitally printed tent
lettering of tents.
It is the last technique that you can indicate here extra. Advantages of the technology is mainly the lower price with which you can apply your logo in one color of your choice. Ask any additional advice to our sales staff.
Ground stakes
Six standard ground stakes are included in a set as standard. The stakes are 75cm long and 25mm diam. Very sturdy. Under accessories you will find additional ground pegs and variants for better support in soil. The ground pins are supplied in a carrying bag
Crowbar

To get the stakes back out of the ground an extra tool is needed. Our crowbar is not included in the set as standard.
Quality of fabric
polyester fabric 320g / m², pvc coating
waterproof
fire-retardant
seams with extra waterproof sealing
fire certificate
Download here the fire certificate of the starting tent in PDF